Sexiest Topless Babes 2009 - Nuts Magazine 06/03/09 [LOCKED]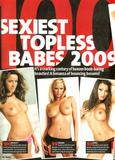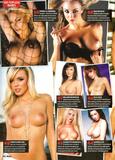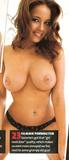 All the women in the pics above i might of missed a few as this took a while to write and i was distracted by many boobs :P
Aisleyne Hogan-Wallace, Alex Sim Wise, Alice Goodwin, Alicia Seffraz, Amii Grove, Amy Diamond, Amy Diamond, Amy Green, Amylu, Anna Taverner, Becky Rule, Cara Brett, Carole Hunt, Casey Batchelor, Charlotte Elyse, Charlotte Marshall, Chelsea White, Chloe Gray, Clair Meek, Claire Andrisani, Danielle Lloyd, Danii Wells, Danni Wells, Donna Tickel, Dylan Hardy, Ella Jolie, Emily Scott, Emma Davis, Emma Frain, Emma T, Eve Wrywal, Freya Haseldine, Gabrielle, Gemma Massey, Georgina Barby, Hannah Kay, Hannah Shelter, Imogen Gray, India, Jade Rogers, Jamie Leigh, Jana Defi, Jennifer Clark, Jerri Byrne, Jodie Gasson, Kate Booth, Katie Downes, Katie Leigh, Katie-Marie Cork, Kaylee Carver, Kayleigh Pearson, Keeley Dean, Keeley Hazell, Kelly Andrews, Kim Acourt, Kitty Lea, Krystle Gohel, Lauren Pope, Leah Francis, Leilani Dowding, Lindsey Strutt, Loiuse Glover, Loiuse Porter, Louise Cliffe, Lucinda Farrell, Lucy Becker, Lucy Briggs, Lucy James, Lucy Pinder, Malene Espensen, Melanie Boorman, Natalie Denning, Natalie Oxley, Natalie Pike, Natasha Marley, Natasha Mealey, Nicole Mclean, Nikkala Scott, Pernilla Lundberg, Peta Todd, Poppy Rivers, Porchia Watson, Rhian Sugden, Rosie Jones, Samantha Buxton, Samantha Kellett, Sammie Pennington, Sammy Braddy, Simone Linsell, Siobhan Fisk, Sophia Cahill, Sophie Howard, Sophie Reade, Stephanie Webber, Tanya Robinson, Vikki Blows, Wendy Newman, Zoe Mcconnell, Zoe Stollery
I wanna Be A Demigod again
Quote:

Originally posted by jade08


lotsa nice tits

Really!!
Come Taste The Music At BeatKing
Dogs Deserve Better
Achmed avatar by EricLindros
Political Correctness is a doctrine fostered by a delusional, illogical, liberal minority, and rabidly promoted by an unscrupulous mainstream media, which holds forth the proposition that it is entirely possible to pick up a turd by the clean end.
Nice collection
So who is #1 ?????
I don't need sex. I'm an American. My government fucks me daily!
3rd row #3 - Rosie Jones "Our Winner!"?

me likey too